Platform Cluster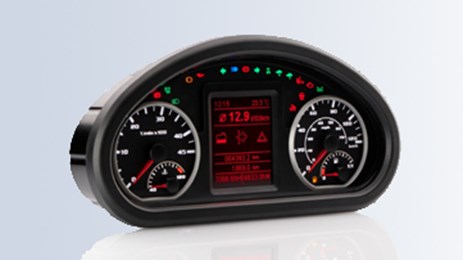 PANORAMICA
Gli strumenti multifunzionali sono sviluppati per l'agricoltura, l'edilizia, i piccoli veicoli commerciali e le applicazioni per il tempo libero. I design robusti e compatti consentono di disporre contemporaneamente di un maggior numero di informazioni importanti, in un'unica posizione.
Centrobase 500
The multifunctional, analogue 4 pointer instrument Centrobase 500 with LC-display and 15 telltales is developed for agricultural, construction, small commercial vehicles and leisure applications. The robust and compact design allows to have a greater number of important information available at the same time. The housing concept with mineral front glass offers ideal front IP class, scratch resistance and comes with a modern look and feel.
Furthermore, we offer specific individualization of the product, to meet individual customer requirements in following points:
Customer-specific dial design
Special CentroWin programming software for parameterization
Programmable acoustic alert, system check and warning thresholds
Benefits and Features
Analogue instrument cluster for low-end applications
4 analogue indications
LCD: 2x engine hours, 2x distance, clock and gear indication
Programmable via CentroWIN PC-Tool
Up to 15 telltales
Technical Data
Operating voltage 12 V DC
Operating temperature -30°C to +70°C
Fixed segment LC-display
IP 65 protection class (front)
Integrated warning buzzer
FlexCluster
Monitoring of many parameters in a compact space
4 gauges, 26 telltales and large monochrome dot-matrix-display
Multiple CAN channels (incl. gateway function)
DTC handling
Several options for customization (e.g. dial, bezel etc.)
Ergonomically and robust designed
Maximum flexibility by programming functionality and display HMI with software tools KIBES-32 and grADI
Technical Data
Dimensions (mm): 290.6 x 143.5 x 72.5
Inputs: 24 digital, 6 analog, 4 frequency, 1 current input
Outputs: 3 x 500mA, 1 buzzer
Interfaces: 2 x CAN, 1 x additional gauge satellites
IP 67 protected (front & rear)
Display: 115 x 145 pixel, monochrome dot-matrix, TC-FSTN
Loader Instrument Cluster
Loader Instrument Cluster is the new platform instrument cluster for Loader market and machinery in special vehicles. With powerful function implemented, our cluster can support up to 24 telltales and can receive various input signals (digital, frequency, analog input, I CAN-J1939) and support signal outputs (vehicle speed output, power output for 5V and12V). By module design concept, we supply a high flexibility for different vehicle configurations and variant requirements.
Best protection against water and dust. One push button for function adjustment.
Benefits and Features
KIBES-32 programmable
Stand-alone operable
5 gauges
16 or 24 telltales
2 types of segmented displays available
1 push button
Technical Data
Size: 411,25 x 198,66 x 103,93 mm
Protection Class: IP 30 rear side, IP 65 front side
Operating Voltage 24V
Operating temperature: -30 to +75°C
Contact / Download
Dealer search
Find your VDO dealer for this product or a Continental sales company in your proximity.
Sales contact formular
Through the contact formular you can adress your questions, opinions and wishes regarding this product to the Continental Automotive center.
Downloads
In the download section you can find documents about this product or product group. Please select the category and document in the search formular of the download section you are interested in.